Discovering Excellence at Delhi Public School
Delhi Public School, Sambalpur is dedicated to provide the blend of both thought and action. We endeavour to build up an ambience of reverence for education and a healthy environment have brought the school among the best schools in India.
 As per our motto "rediscovering core ethos" we pledge to leave no stone unturned to provide opportunities for our students to be prepared and trained to lead the society in all sectors. Right from its initial days the vision was to develop a center of excellence that caters the best school education in India to the local crowd of Odisha.
Participation in Extracurriculars
CBSE Board Results in X and XII
Expert Teachers from Across Country
Career Counselling from Class IX Onwards
At Delhi Public School Sambalpur, we believe that children learn best when they are actively engaged and concepts are presented in meaningful and creative ways. Our rich and unparalleled Education program connects the classroom to the real world and teaches students problem-solving and critical thinking skills. Small classes and a project approach to teaching create a love of learning that lasts a lifetime. Here, at one of best CBSE schools in Odisha, students are not simply memorizing facts and taking tests; knowledge is absorbed through hands on, experiential learning.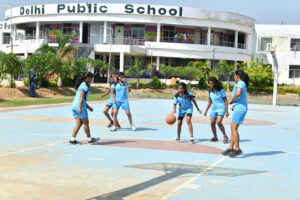 Considering the fact that boarding schools comparatively offer more sports and extra curricular activities, the children have better...
Read More
To make provisions for our children to get the best scholastic and co-scholastic education, we have carefully structured our academic curriculum as well as extra-curricular activities such that they can develop their talents to their highest standards. It is our mission to grow and enable the future leaders of tomorrow, and to provide them with the best educational opportunities